Mobile loading ramp is used in the warehouses for unloading/loading trucks by forklift.
Mobile loading ramp allows to perform quick and reliable loading operations with a minimum of staff usage.
The main advantages of mobile yard ramp WENRON -ST are:
speed of loading works. Mobile ramp for unloading trucks allows a several times reduced time of loading goods from a semi-trailer truck.
labour and financial resources saving. To carry out unloading and loading operations there is no need to involve an entire work team anymore- using a mobile ramp, the participation of only one worker is needed.
safety. The usage and proper portable loading ramp exploitation, minimizes risks of any loading operations.
Our company, a manufacturer of loading ramps, offers several basic models of mobile loading ramps. We designed them basing on the needs and requests of almost  70% of our customers. That is why these models are universal solution for most companies.
Technical
specifications
of
the
mobile
loading
ramp WENRON
-ST
models: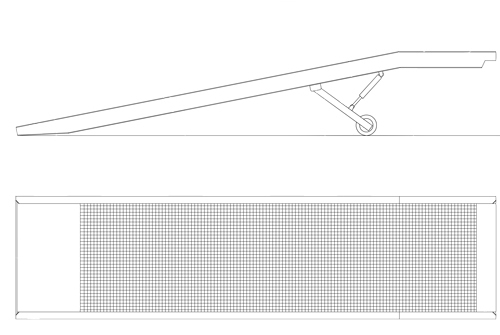 | | | | |
| --- | --- | --- | --- |
|   | ST-5 | ST-7 | ST-10 |
| Type | mobile | mobile | mobile |
| Loading capacity, kg | 5 000 | 7 000 | 10 000 |
| Length of inclined part, mm | 7 000 | 7 000 | 9 000 |
| Length of horizontal part, mm | 2 000 | 2 000 | 3 000 |
| Overall length, mm | 9 000 | 9 000 | 12 000 |
| Useful width, mm | 1 600  | 2 000   | 2 000    |
| Operating height, mm | 900-1650 | 900-1650 | 900-1650 |
| Hydraulics | manual | manual | manual |
| Material | steel | steel | steel |
Besides basic models of mobile ramps, we are always ready to fulfill an order according to the individual parameters, needed to our customer.
---
Basic
configuration
of
mobile
ramps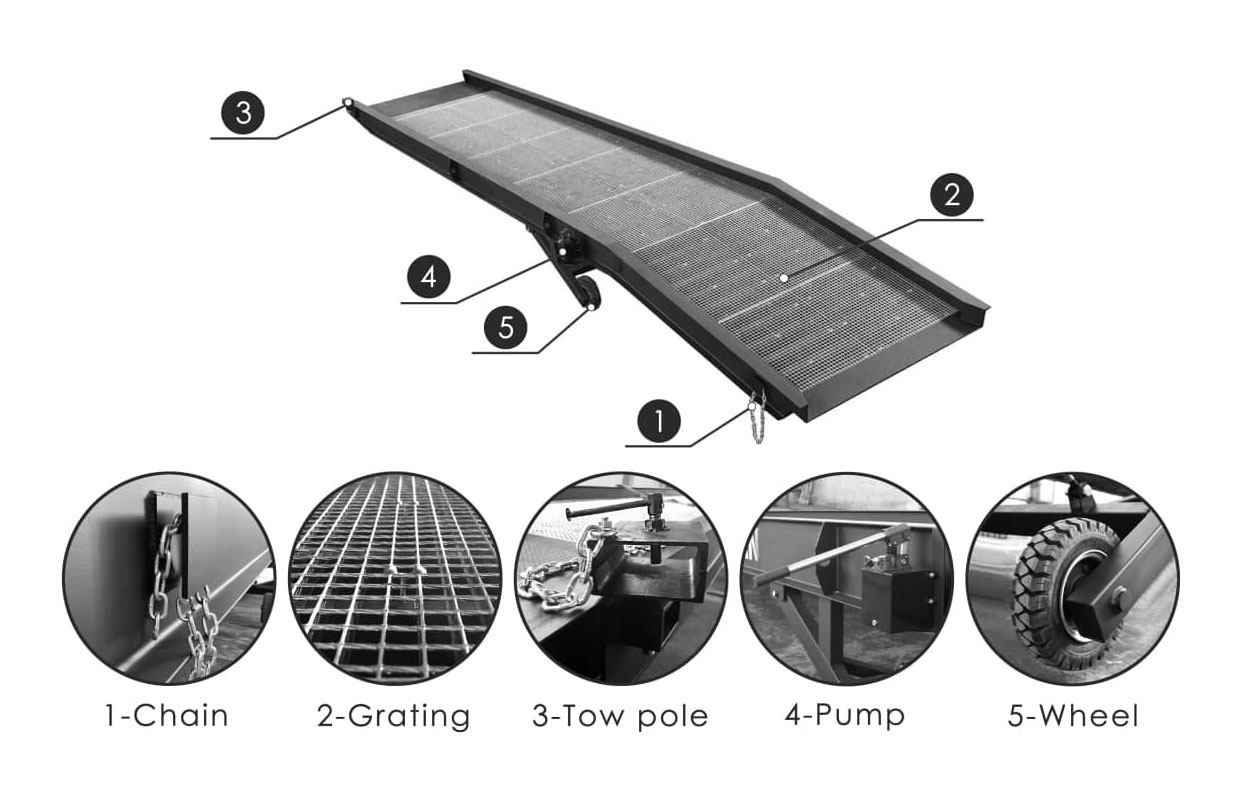 Manual hydraulic pump adjusts height from 90 to 165 cm. With the help of a manual hydraulic pump, the mobile ramp rises to the working height and then its part lays to the edge of the truck. After the ramp is additionally fixed to the truck with a chain and a hook. In this position, the mobile ramp is ready for operation.
Side fence has a height of 12 cm and a width of 10 cm, provide safe movement of the forklift. And safety chains securely fix the ramp to the truck.
The levelling horizontal part allows forklift to drive into a semi-trailer with straight forks.
Galvanized grating surface ensures good adhesion of wheels to surface, which gives an opportunity to use the ramp in all weather conditions. Moreover, it protects metal of destructive processes formation.
Presence of wheels pair allows you to move the ramp around the warehouse with a forklift. There is a special tow pole, which may be connected to a forklift allowing ramp being easily transported around the warehouse.
Also, at client's request mobile loading ramp can be equipped with additional options.
---
Additional
options
for
mobile
loading
ramp 
Supporting legs
Railings
Electric height adjustment
Tent
Additional pair of wheels
Anti-slip galvanized grating
The price of a mobile ramp depends on the chosen model and an availability of additional options. To buy mobile yard ramp or get free consultation - contact our sales department by phone +421 233 221 260
Delivery time: 30 calendar days.
Warranty – 18 months.